Wie man Ubuntu 8.10 (Intrepid Ibex) zu 9.04 (Jaunty Jackalope)(Desktop &Server) Upgradet
Wie man Ubuntu 8.10 (Intrepid Ibex) zu 9.04 (Jaunty Jackalope)(Desktop &Server) Upgradet
Version 1.0
Author: Falko Timme <ft [at] falkotimme [dot] com>

Gestern ist die neue Ubuntu 9.04 (Jaunty Jackalope) Version als Release erschienen. Diese Anleitung zeigt, wie du deinen Ubuntu 8.10 Desktop und Server auf Ubuntu 9.04 upgraden kannst.
Diese Anleitung kommt ohne jede Gewährleistung! Ich gebe keinerlei Garantie, das es bei dir genauso funktioniert!
1 Desktop
Starte die  Aktualisierungsverwaltung (System > Systemverwaltung > Aktualisierungsverwaltung):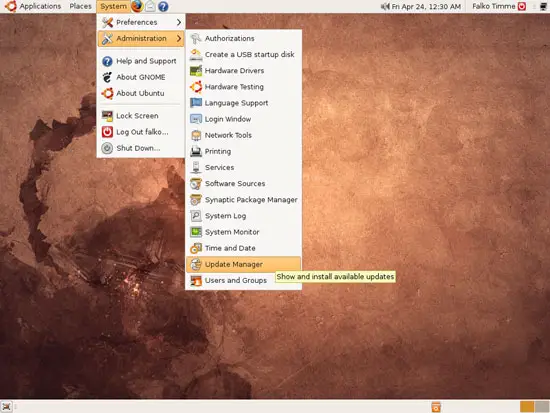 Die  Aktualisierungsverwaltung sollste anzeigen, das das neue Distributionsrelease (9.04) verfügbar ist. Klicke auf Upgrade um das Distributinsupdate zu starten: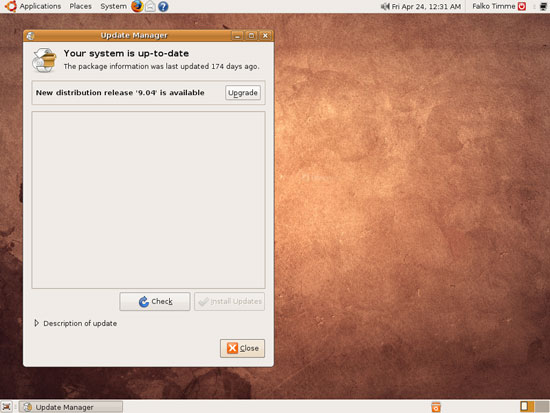 Ein Fenster mit den release notes für 9.04 öffnet sich. Klicke erneut auf Upgrade: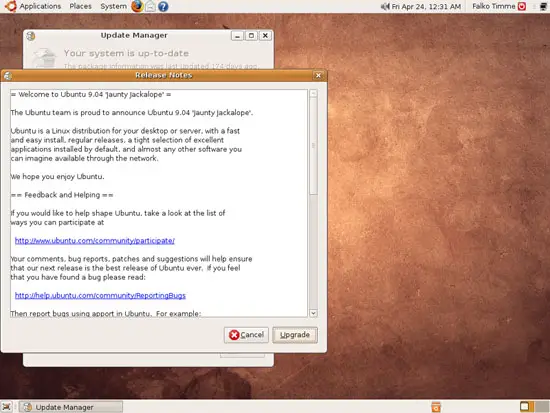 Das Upgrade Tool startet den Download: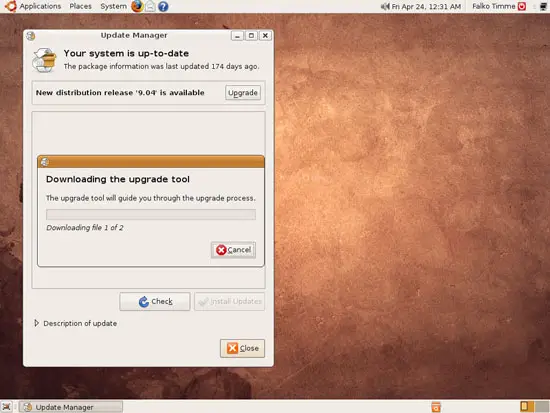 Gib dein Passwort ein: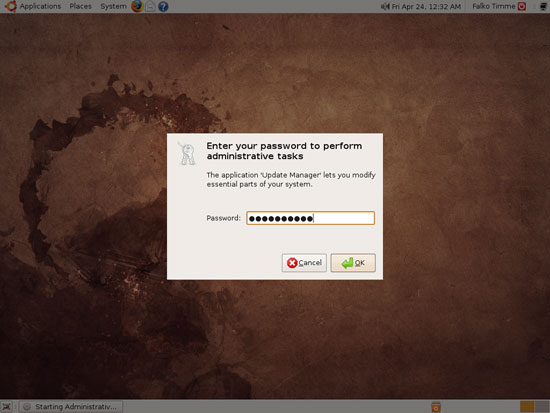 Das Update wird vorbereitet: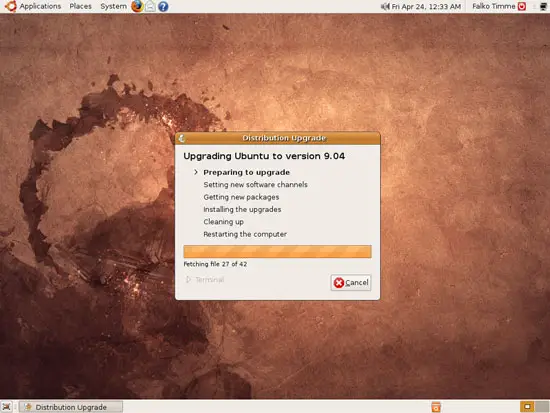 Klick auf Start Upgrade um den Upgrade Prozess nun endgültig zu starten: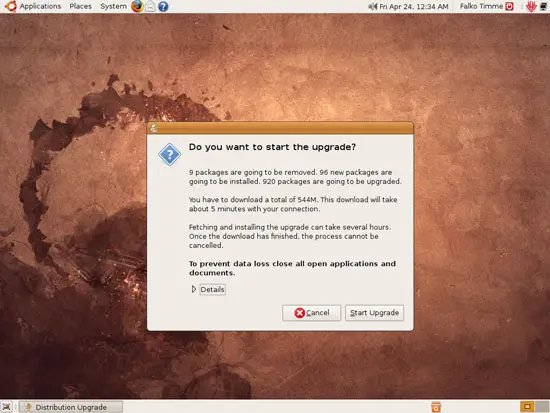 Die Upgradepakete werden nun runtergeladen…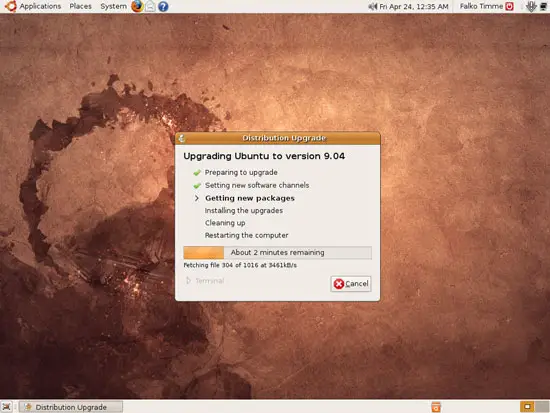 … und installiert. Das kann einige Minuten dauern, also gedulde dich ein wenig.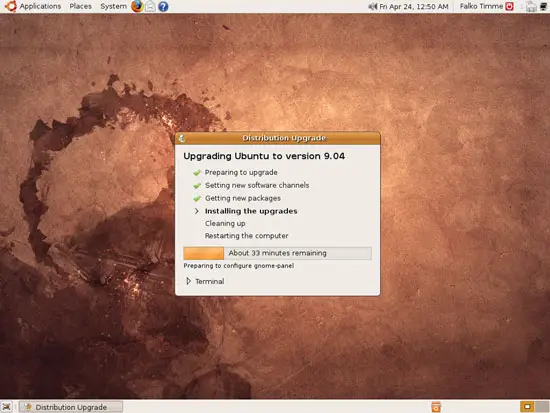 Am Ende des Upgradeprozesses, solltest du einige überholte Pakete entfernen: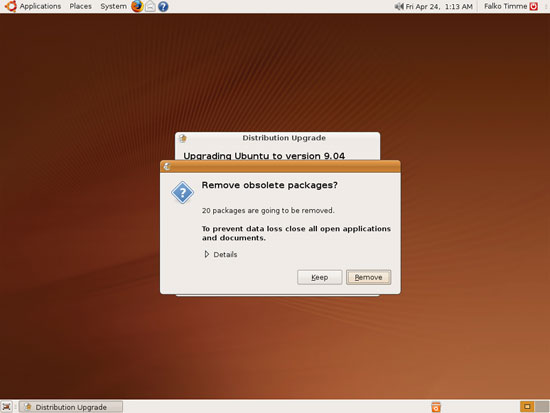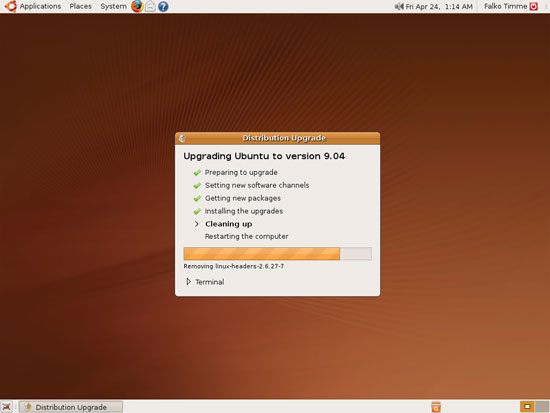 Das System muss nun neugestartet werden, dafür klicke auf Restart Now: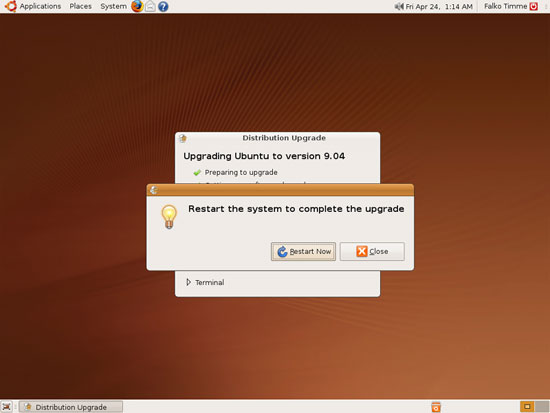 Nach dem Reboot kannst du deinen neuen Ubuntu 9.04 desktop benutzen: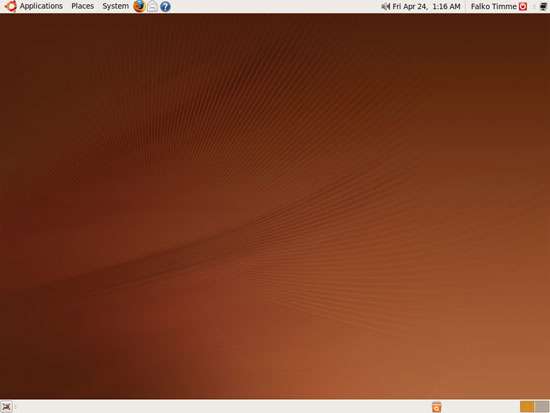 2 Server
Als erstes werde root:
sudo su
Dann starte
apt-get update
und installiere die Pakete update-manager-core:
apt-get install update-manager-core
öffne die Datei /etc/update-manager/release-upgrades…
vi /etc/update-manager/release-upgrades
… und stelle sicher, das Prompt=normal in Ihr ist:
Dann starte
do-release-upgrade
um das Distributionsupdate zu starten.
[email protected]:~# do-release-upgrade
Checking for a new ubuntu release
Done Upgrade tool signature
Done Upgrade tool
Done downloading
extracting 'jaunty.tar.gz'
authenticate 'jaunty.tar.gz' against 'jaunty.tar.gz.gpg'
Reading cache
Checking package manager
Continue running under SSH?
This session appears to be running under ssh. It is not recommended
to perform a upgrade over ssh currently because in case of failure it
is harder to recover.
If you continue, a additional ssh daemon will be started at port
'9004'.
Do you want to continue?
Continue [yN] <– y
Bestätige, das du Upgraden willst:
Calculating the changes
Do you want to start the upgrade?
1 package is going to be removed. 29 new packages are going to be
installed. 392 packages are going to be upgraded.
You have to download a total of 236M. This download will take about 2
minutes with your connection.
Fetching and installing the upgrade can take several hours. Once the
download has finished, the process cannot be cancelled.
Continue [yN] Details [d] <– y
Am Ende des Prozesses, solltest du einige überholte nicht mehr benötigte Pakete entfernen:
Remove obsolete packages?
28 packages are going to be removed.
Continue [yN] Details [d] <– y
Um das Upgrade zu beenden, muss der Server jetzt nur noch neugestartet werden:
System upgrade is complete.
Restart required
To finish the upgrade, a restart is required.
If you select 'y' the system will be restarted.
Continue [yN] <– y
Nach dem Reboot läuft auf deinem Server Ubuntu 9.04.
3 Links